Sparkle Slime Mushroom Man
Ludum Dare 52 COMPO


Kiru, Better known as "Sparkle Slime Mushroom Man" (Thanks kids) is your average FIRE DEMON on a comfortable stroll through the woods to harvest the natural Slimes and Mushrooms in the area.
use your mouse to direct the demons trajectory
Collect slimes for 3 points, or mushrooms for 8 points each.
pickup power ups to increase your score:
Bomb - explodes all nearby slimes and mushrooms and gives you the points.
Grow (Burger) - Kiru gets 2x the size!
Magnet - Slimes are attracted to you and move in your direction (if close enough)
Score Multiplier (Basket) - 2x the points for each slime and mushroom collected for a period of time.
Power ups are random drops. Power ups stack!
most importantly, I hope you have fun playing my game.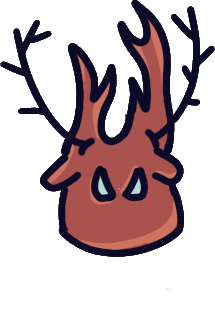 Download
Download
LD Jam 52_SSMM 06 Windows.zip
27 MB